WE NOW OFFER ONLINE SCHEDULING.

GO TO
https://practice.kareo.com/hearttoheartpediatrics
to book your appointment. If you don't see a time that works for you, call the office. There is a good chance we can accommodate!


Our Location:

As of January 2019, our address is 8135 Painter Ave, Suite 303, Whittier, CA 90602. We are in the 3 story, large, blue and white office building located on Painter Ave just north of Whittier Blvd. We were previously a block further north. Even in 2020 patients are sometimes going to the old office. Hope this helps!
Insurance Updates:

If we weren't contracted with your insurance carrier in the past, it may be worth rechecking. We have new contracts, as of February 2020, with the major PPO plans including United Healthcare, Cigna, Aetna, Blue Shield and Blue Cross. We are providers for Tricare and Healthnet PPO and are affiliated with PIH, Allied Pacific and Regal for HMO plans.


COVID-19 UPDATE


Our Office is Open for Safe In-Person Visits and Telehealth.

We are also doing Well Visits, especially for young children. Please don't let your baby's immunizations lapse for fear of exposure to Covid-19. We are taking extremely strict measures to prevent exposure of children and adults to infection of all kinds in our office.


We are able to do rapid covid testing in our office.

These tests are for children who have symptoms of possible Covid infection or who need clearance for school. Results are available within 15 minutes.
We are happy to offer Telehealth visits if your child is showing mild symptoms of Covid 19.

We can help you treat your child's symptoms, optimize nutrition to help the immune system work its best and know when to seek medical help. While Covid 19 symptoms are generally mild in children, if your child has risk factors such as asthma, diabetes, an underlying chronic disease or a history of prematurity, we can help you and your family deal with Covid safely and optimally.
If your child has Covid and needs to be seen, we offer in office visits. Let us know that your child has Covid when you call and we will use a time slot that will not expose other patients, as well as enhanced sanitation procedures. Children with significant cough or fever lasting more than 5 days should be seen in the office.
If your children experienced school problems, stress, sleep issues or weight gain during the pandemic, you are not alone. Check out our new page on Helping Your

Family through the Covid Crisis and minimizing the effects of the lockdown. Click on the menu in the left upper corner of this page.
EfC
Th
If your child is struggling in school, we may be able to help! Please make an appointment and bring any paperwork from the school (report cards, IEP reports, psychological or educational testing). If you suspect an attention or focusing issue, you may download parent and teacher ADD questionnaires from our website on the section patient forms. It is especially helpful to have the teacher(s) complete the forms prior to the visit. We are able to assess for multiple conditions that may cause academic and socialization challenges. We have a network of psychologists that we have worked with on these issues and can also direct you to other resources.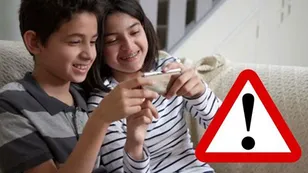 Important Internet Safety Tip: New apps that allow live streaming from cell phones. Teens are live streaming on YouNow, Meerkat and Periscope. The trends are a bit concerning and there are scary examples of teens interacting with multiple strangers from their bedrooms. If your child is participating, you may not know because the video may permanently be deleted after a few minutes.
You can learn more at thecybersafetylady.com.au/2015/03/are-periscope-and-meerkat-safe-for-kids/.
Here is also a video to watch with your 4th or 5th grader: http://thecybersafetylady.com....
OTHER INTERESTING TOPICS: